The Elusive Butterfly – The Campire Boys Book Two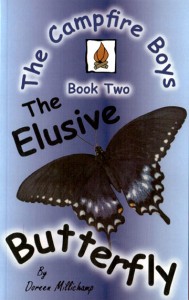 The adventures of the Campfire Boys continue at Crow Lake Campgrounds. Their worm-selling business thrives and they begin a new quest – to help Lee find the final butterfly for his collection.
Book Two is full of adventure, surprises and laughter.
Author: Doreen Millichamp
See Doreen's website for more information on this book.
---