The Fishing Derby – The Campfire Boys Book 3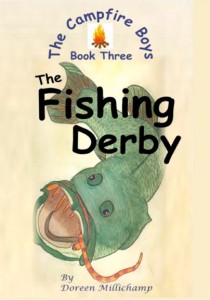 The Campfire Boys Series continues: a whirlwind of excitement is blowing through the Crow Lake Campgrounds! Catching the biggest Bass is on everyone's mind.
Prizes and bragging rights go to the winner! When the line bobs, it's boy against fish! Just as the fish is close enough to net, it swims off into deep water!
Who will win?
Author: Doreen Millichamp
See Doreen's website for more information on this book.
---