Featured Fiction Categories:
Our Writers:
Writing Tips
The Writers of BK Publishing:
T. Masters-Heinrichs
I'm an avid reader who enjoys writing mysteries, science fiction, thrillers, fantasy and magic realism. My works have appeared in Voices: Journal of the Lake Winnipeg Writers' Group, HalloweenAlliance.com and the Prairie Parent.
Having lived my entire life on or near water, I now resides on Medicine Creek, in the Manitoba Interlake, with my husband Curtis, our two children, two cats in constant need of affection, one neurotic Border Collie, a geriatric gecko and one large rabbit that seems to be getting bigger.
I have completed my first novel for publication, "Blood Is Black In Moonlight", a supernatural mystery set in the modern world. I'm now experiencing the joys of the editorial process and I hope the book will hit bookstores late 2010.
"When I write, I'm writing to have my stories read. I believe as a writer I'm creating a contract with the reader. My job is to supply a great story, the best that I can. My goal is entertainment. I want people to be entertained by what I write. My hope is for people who read my work to say, hey, I read this story and it was great. For me that is the greatest compliment a writer can get, someone just walking up and saying, hey, I really enjoyed that story you wrote. And if I'm doing it right then my work will sell."
Favourite authors include Neal Stephenson (Snow Crash), Jim Butcher (Dresden Files), Arthur Conan-Doyle (Sherlock Holmes), J.R.R. Tolkien (Lord of the Rings), J.A. Konrath (the Jacqueline "Jack" Daniels Mysteries), Fred Saberhagen (Berserker Series), Kathy Reichs (Tempe Brennan Forensic Mysteries) and Keith Laumer ( Bolos Books: though other authors have also written some excellent work in this universe).
Favourite shows and their writers (& sometimes producers) include the creators and writers of: the 'Firefly' and 'Buffy the Vampire Slayer' series by Joss Whedon, 'Babylon 5' series by J. Michael Straczynki, the U.S. navy series N.C.I.S. by Don Bellisario, and 'Star Trek:The Next Generation' and 'Enterprise' by Gene Roddenberry.
Publications and Stories by T. Masters-Heinrichs:
29 Dec 2011 Filed in Feature Publications & Our Publications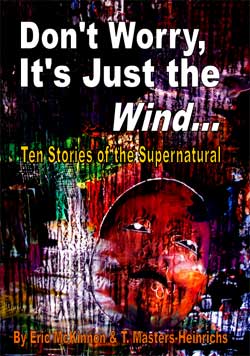 Ten Stories of the Supernatural Wind – Ethan Frick should have known, the past always comes back to haunt you … The Hand of Fate – Fate shows that there's no such thing as the perfect victim … or the perfect killer. The Caddy – The green fees are high, when vengeance from the past visits the Bower Golf and Country Club … Thaw – Who ever said a dog is man's best friend never met Bo … The Mill – Can information from the future trap a killer in the past … The Impressionist – Forced to known a child's suffering at the hands of serial killer, balanced on the edge of madness, can she deliver justice4 before the next life is destroyed … Masquerade – Donavan just needed to make a few extra dollars, now he might be the death of the party … Friends – You never … Continue reading →
08 Apr 2009 Filed in Short Stories
Mason stepped through the doorway of the bookstore called 'the Door'. He was not amused. "We're closing in five minutes," called a voice from the back. He walked, running a hand down the wooden counter that ran the full length of the room, halfway he stopped. Shelves lined every wall. A grandfather clock showed two minutes to nine. Books and vials, crystals and stones were stacked here and there. A shelf filled with small colored jars brought a shadow of unwanted memories from his youth. But it was the smell of incense, not sulfur, that lingered throughout. Behind the counter a bead screen hung in the doorway. A life pulsed behind those beads, a woman. His hunger beat in time to her heart. Eyes roving the shelves, he remembered a time when books were a rare privilege. The room was bright and well lit, too well lit. His hand drifted … Continue reading →